Portrait of Thomas Beall of George (1748-1819)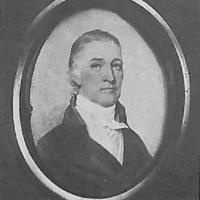 All Titles
Portrait of Thomas Beall of George (1748-1819)
Dublin Core
Title
Portrait of Thomas Beall of George (1748-1819)
VRA Core
Title
Portrait of Thomas Beall of George (1748-1819)
Cultural Context
American
Description
Grandson of Colonel Ninian Beall, who inherited a portion of the Rock of Dumbarton in 1780. Image taken from a miniature in the Maryland Historical Society.
Collection
Citation
"Portrait of Thomas Beall of George (1748-1819)," D.O. Garden Stories, accessed May 21, 2022, http://images.doaks.org/garden-histories/items/show/219.
Geolocation
This item has no location info associated with it.
Item Relations
This item has no relations.